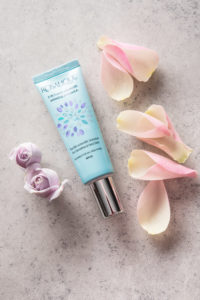 Rosalique 3 in 1 anti-redness miracle cream contains SPF 25 and has a triple action effect to protect against the sun's harmful UVA and UVB rays which aggravates red skin. It conceals instantly and gently treats the skin from Rosacea and redness.
Rosalique is derived from natural ingredients, vegan friendly and is cruelty free. ​It's universal formula works with all skin tones to give a warm glow. Use as a stand alone product, or as a base under makeup. The active ingredients found in Rosalique work as a healing cream for rosacea and redness in the skin. Rosalique conceals instantly, treats gently and protects long-term. Claudia's other brand Salcura was originally developed in the 1990's by German bio-scientist Dr Martin Schiele (Claudia's Father-in-law) That range consists of Antiac – for Acne prone and oily skin, Biokskin – for dry skin, eczema and psoriasis and Bioskin Junior – natural skincare products for children with dry and sensitive skin.

Sales rocket as small independent beauty brand Rosalique celebrate their first year of trading. Rosalique sales have increased 325% since December 2018 with the equivalent of 1 sold every hour!
This month Rosalique celebrates its first birthday. The anniversary was celebrated with a special breakfast event held at Fenwicks of Bond Street. Press and influencers were given the opportunity to meet Co-Founder Claudia Talsma.
Fenwicks Bond Street is a key stockist of Rosalique, therefore the perfect venue to host the event.
Claudia Talsma gave a speech introducing herself and her brand to the audience and attendees were invited to participate in a Q&A. She explained how the product worked, gave an in-depth tutorial on how the ingredients act to calm sensitive skin, explaining the benefits of wearing Rosalique.
Fenwicks resident MUA Freyja Barker gave a tutorial to explain to guests how she uses Rosalique. She uses it on all of her clients.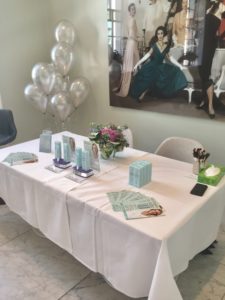 Quote from Claudia Talsma
"We like to call Rosalique a base or primer for the skin. It gives great coverage used alone. It contains SPF 25 but it can also be worn under foundation. How Rosalique is different, is that contains microbead technology that instantly calms and soothes the skin. If you have sensitive or problematic skin, choose a primer or foundation that contains natural ingredients. You should always try to avoid clogging your pores.
My partner and I started this business from scratch, using our own money with no outside investment. We literally scrapped the barrel together, including borrowing a bit from my mother to get the first production running (I have now paid her back!) We believed in the product so much we just wanted to get it out there – the rest would happen after people experienced it! "