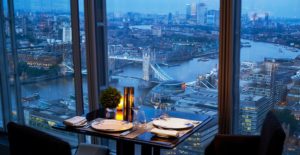 Discover a deliciously local dining experience, celebrating fresh ingredients sourced from suppliers in Borough Market. The name TĪNG derives from the Chinese word for 'living room', reflecting the casual elegance of this restaurant and lounge on Level 35, just off the Sky Lobby. The design is sophisticated and subtle, with an open-plan finishing deck offering a glimpse into the kitchen's lively buzz.
The restaurant is a popular destination for breakfast, lunch, dinner, afternoon tea and late supper. Every occasion is enhanced by 360-degree views, encompassing the River Thames, Tower Bridge, Maritime Greenwich, Canary Wharf and the historic counties of Kent, Surrey and Sussex.
The famous chain of luxurious Hotels and Restaurants has finally come to our city, hosted at the Shard, one of the most iconic buildings in the world! Feel an unparalleled connection to London, at Shangri-La Hotel, whilst enjoying panoramic skyline views that connect you to the whole city. This is the only five-star luxury hotel in London Bridge, contrasting sleek modern style with the area's rich historic character. To capture London's dynamic personality, Shangri-La service has been redefined with a style that feels friendly, warm and genuine, perfect to give you an amazing one life experience during your stay!
For more information please visit https://www.ting-shangri-la.com/