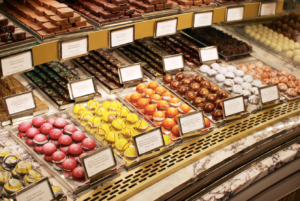 Fortnum & Mason has announced a £1.14million investment into the relaunch of the confectionery department within its Piccadilly flagship store opening on September 2019.
"This will be the most extraordinary, joy-giving chocolate destination in all of London." says Sophie Young, Confectionery Buyer at Fortnum & Mason. "We're very excited that customers can finally see the new department for themselves and try some of our innovative and exceptional chocolate and confectionery – a constant source of pride for everyone at Fortnum's." The new confectionery and Chocolate Wonderland has been designed to be a joyful and immersive experience, packed full of choice, where customers will be treated to experiential tastings.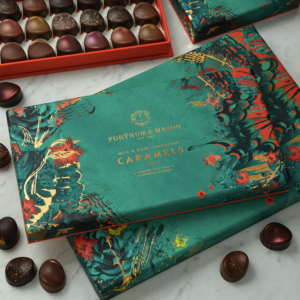 Throughout its history, Fortnum & Mason has been synonymous with extraordinary food, exceptional service, unforgettable experiences, and joy-giving gifts. Cocoa has been part of the Fortnum's product offer for over 160 years, with the shop being recognized as one of the original purveyors of drinking chocolate back in the 1860s.
Fast forward to today, Fortnum's is still an innovator and authority in delicious confectionery – most recently, bringing Ruby Chocolate to the UK for the first time.
The new Fortnum's confectionery wonderland, which will be packed with an unrivalled selection of sweet pleasures, is a place where desire will meet deliciousness – the ultimate destination for tempting treats. Visitors will be able to shop over 500 varieties of confectionery and explore innovative and artisanal delights from around the world – a gentle nod to Fortnum's rich history of exploration and discovery. They will also be able to sample inimitable truffles in famous Fortnum's flavours like Rose & Violet, Kent Honey, or Royal Blend.  Here are the mouth-watering highlights of what's fresh and exciting at Fortnum's new confectionery department…
Loose Chocolate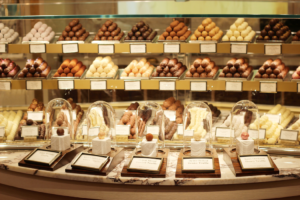 Fortnum's loose chocolate counter is the one-stop-shop in London where you can explore many varieties of chocolate under one roof. The range of 300 different types of chocolates (of which 150 are wholly new) includes truffles, caramels, chocolate bark, dragees, marzipan, pralines and ganache. Flavour inspiration comes from the famous Fortnum's Food Halls incorporating flavours such as Ling Heather Honey and Burlington Orange Marmalade into caramels. Fortnum's signature truffles come in over 40 innovative flavours including Dusted Royal Blend Tea, Knickerbocker Glory (a homage to the iconic Fortnum's dessert) and a Ruby Chocolate Kent Orchard Honey truffle. There is an endless selection, perfect for curating a hand-selected bespoke gift including no added sugar, vegan-suitable and alcohol-free varieties. All new varieties of chocolates are Palm Oil-free.
Hot Chocolate
Made in England and exclusive to Fortnum's, 5 single origin hot chocolates, made from callets, are set to be the latest foodie trend. In addition, customers purchasing the Ultimate Hot Chocolate are encouraged to bring in their empty tins of dark and milk hot chocolate for a £15 refill from the immersive hot chocolate station.
Caramels, Pralines and Ganache
A range of chocolate ganache, pralines and caramels will be available, all made in England with exotic fragrance flavours from around the world such as Oud Caramel, Rose Caramel and Pomegranate and Hibiscus Caramels, showcasing complex floral notes. Global specialities like the finest Italian Ginadotti & Cremino, hand-dipped candied citrus peel from Corsica, English Mitcham Mints and hand-piped chocolate cornets from
Belgium are also available. Not one to shy away from adventure and innovation, the retailer is also introducing an exclusive Baked Bean flavoured chocolate, a nod to the Fortnum's buyer who famously purchased all of Mr Heinz's tinned goods back in 1886.
"At Fortnum's, we're in the business of delivering a sense of pleasure. With all the boldness and creativity which has defined our brand, products and services for centuries, our vision for the new confectionery department encompasses a commitment to providing extraordinary experiences for our customers," concludes Zia Zareem-Slade, Customer Experience Director at Fortnum & Mason.
For more informations lease visit:https://www.fortnumandmason.com/t/categories/chocolate