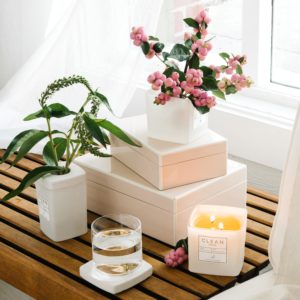 From the creators of CLEAN RESERVE comes CLEAN SPACE – New collection designed with people and the planet in mind. Comprised of comforting scents and accessories for your home, and crafted with sustainability at its focus, the collection includes Natural Soy-Blend Candles, Liquid Reed Diffusers and Linen & Room Sprays to brighten any room, without compromising the wellbeing of the planet and people. Natural Soy-Blend Candles (£44.00) Spark a warm, serene experience with paraffin-free candles, for a beautifully clean burn without toxins. The candles are 100% vegan and create a comforting glow you'll feel good about. A natural soy-blend wax meets two cotton wicks for an ultra-clean even burn.
Handcrafted in the USA with sustainable ingredients and poured into a chic reusable glass votive. Gluten-free, cruelty-free and created without parabens,dyes, phthalates or petroleum. Wick is 100% Cotton.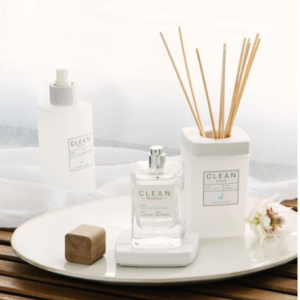 Liquid Reed Diffuser (£46.00)
Up to 40 hours of burn time.
Crafted using sustainable ingredients, natural rattan reeds and 100% vegan oil to fill any room with a pure, subtle fragrance for weeks at a time. The glass vase is reusable, with replaceable and recyclable reeds.
Gluten-Free, Cruelty-Free and created without parabens, dyes or phthalates. Aroma lasts up to 90 days.
Room Spray (£40.00)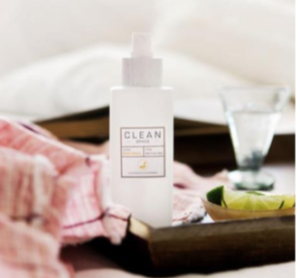 Comforting scents for your home, the Room Sprays are crafted with sustainable ingredients and presented in a chic, reusable glass bottle. Simply twist off the pump and it comes a vase for a single favourite glower or a makeup brush holder.
Gluten-free, cruelty-free and created without parabens, dyes or phthalates.
Choose from three uplifting scents, each made with sustainable ingredients:
Warm Cotton – A comforting scent for your home reminiscent of freshly-washed clothes. o Sandalwood: Prized for its irresistible warmth and richness, Sandalwood is one of the most coveted ingredients in the world. Clean Space's perfumer has chosen sandalwood that grows naturally in Sri Lanka, where it's ethically harvested by local tribes who treasure every drop and ensure that nothing is wasted. Native people have an exceptional understanding of their land and they work with them and in harvesting, they respect their knowledge and their resources. This precious material comes directly from farmers and distillers, therefore supporting the local
economies in which the plants are grown.
o Mandarin Oil: Cultivated in Brazil, the harvest of this fruit is done with the most
care to ensure the process in done with transparency and commitment to the highest quality oil. Clean Space actively supports the local communities and their livelihoods.
Rain – A rejuvenating scent for your home, inspired by the beauty of a passing rain shower that leaves behind a crispy, watery freshness.
o Cedarwood Oil: Clean Space's fragrance partner works closely with partners in Alabama, Missouri and Texas where the raw material grows abundantly and can be harvested with no damage to the environment. With the help of their partners, they are mastering the production of Cedarwood Oil from the logs with state-of- the-art distillation, resulting in one of the most sustainable supply chains in the range of available aromatic woods. Creating demand for cedarwood oil helps to sustain jobs in the communities that harvest the oil.
Lavender Pays: Their fragrance partner enters partnerships with farmers in the South of France where perfumery was born to be able to continue the production of natural raw materials from this region. They guarantee farmers to take a certain tonnage of raw materials so that their income is protected, and they can continue to viably grow crops with fair pricing. This protects these family farms from disappearing, and in so doing, contributes to the culture unique to this rich area. Their fragrance partner has close proximity to the farms so crops can be processed immediately, before they lose their olfactive value. Proximity of fields to the production facility helps minimize the carbon footprint.
o Patchouli Oil: Patchouli notes highlight that earthy musk aroma profile you're after. They chose to partner with a company that sources sustainable Patchouli from Indonesia in support of their program that supports the local farmers.
Fresh Linens – A relaxing scent for your home, evoking the carefree feeling of sleeping in on a sunny weekend morning, wrapped in soft linens.
o Bourbon Vetiver: Vetiver is a tropical grass commonly cultivated for its strong and fast-growing roots, which can grow 3 to 4 meters deep. Not only is Vetiver highly tolerant to droughts, but it also helps protect against soil erosion. This Vetiver, however, can claim the honorific title Bourbon, because it's specially sourced from Madagascar (it's basically the perfume equivalent to the wine industry's Grand Cru designation). In Madagascar, the roots are distilled near the fields, conserving the aroma—as well as our carbon footprint—and the extraction is subsequently reworked and refined at our facilities in France to enhance that earthy, rosy scent you love.
CLEAN SPACE is available from February 2020 from Space NK and https://www.spacenk.com