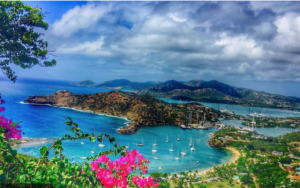 Escape 2020 and visit Antigua and Barbuda, where we've got the sun, the sea and plenty of much needed space. Antigua's shoreline is washed almost exclusively by the Caribbean Sea, and is hugged by 95 miles of superb coastline. Her sister Barbuda, is surrounded by protective reefs, and features a large lagoon and Frigate Bird sanctuary. The islands are best-known for their friendly and welcoming people, pink and white-sandy beaches, crystal clear waters and the most satisfying and enjoyable climate in the world.
The tropical islands of Antigua and Barbuda are located in the heart of the Caribbean about a thousand miles to the east of Jamaica and half that distance from Trinidad on the coast of South America. We are at 17- N latitude, about the same as the Cape Verde Islands and Bombay and 61- W longitude.

The island of Antigua was born out of the sea by a volcano about 30 million years ago. A young island in geologic time. On the northern flank of this volcano, reefs were formed, hence the greater part of Antigua is low lying and is composed of limestone rock.
The highest point of Antigua is 1,319 ft in the south-west and is called Boggy Peak, but the limestone Highlands of Barbuda rise to only 125 ft. The area of Antigua is 108 square miles, while Barbuda is 62 square miles. The population of the former is approaching 80,000, but the latter is relatively unpopulated at 1,300. Days and nights are refreshingly cooled by the gentle trade winds.
Legend has it that when Columbus was near Redonda on November 11th 1493, he sighted the island and named it 'Santa Maria de la Antigua', supposedly after a chapel dedicated to a famous miracle-working virgin in Seville Cathedral, Spain. Antigua means 'ancient' in Spanish. Despite giving it a name, Columbus never actually landed on the island.
The Antigua and Barbuda Tourism Authority, unveiled a fresh, new marketing campaign designed for local audiences called #CoolisClean in September 2019. The #CoolisClean campaign, which coincides with the Tourism Authority's global summer marketing campaign #WhatCoolLooksLike, is geared towards ensuring that Antigua and Barbuda remains one of the Caribbean's most attractive destinations.
Latest Travel Advisory 2020 

Summary of travel protocols for guests coming on vacation
The Government of Antigua and Barbuda has updated its travel advisory. All arriving passengers by air must have a negative COVID-19 RT-PCR (real time polymerase chain reaction) test for SARS-CoV-2 using a nasopharyngeal or oropharyngeal swabtaken within seven (7) days of their flight. (This includes transiting passengers). Children below the age of 12 years, entering Antigua, DO NOT REQUIRE a COVID -19 RT-PCR test.  Passengers arriving by sea are subject to quarantine according to guidelines issued by Port Health. All travellers are also subject to assessment  by Port Health Authorities for signs and symptoms through a series of checks and the completion of a health declaration form on arrival.
All arriving passengers will be monitored for COVID-19 for periods of up to 14 days in accordance with the directions of the Quarantine Authority and the Quarantine (COVID-19) Guidelines. Visitors may be required to undergo further testing for COVID-19 on arrival or at the hotel or place of lodging as determined by the Health Authorities.
for more information and latest travel advice:
https://visitantiguabarbuda.com
https://www.gov.uk/foreign-travel-advice/antigua-and-barbuda