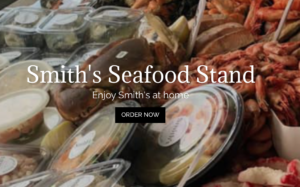 With a huge range to choose from including the classics such as Jellied Eels and Whitstable Cockles to the fish favourites that Smiths have become famous for such as Lobster, Cornish Crab and Carlingford Oysters. * Smith's is compliant with all government guidance on managing the risk of COVID-19. 
Smith's of Ongar established in 1958 provides fresh, sustainable seafood that is famed throughout the South East. With a warm, welcoming fire, exposed brickwork and a cozy upstairs bar along with attentive staff, we have the perfect ingredients for a meal beyond compare. Front of house staff at Smith's are trained to the highest level with regular taster days of food and wine, as well as cocktail training from award winning mixologist Alex Turner. Exclusively to Smith's of Ongar is our own brand of Bitter and Ale, made in conjunction with Brentwood Brewery adding to the already unique experience that is Smith's.
For more information and Takeaways:https://smithsrestaurants.com
.