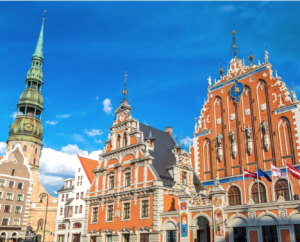 Latvia is a country on the Baltic Sea between Lithuania and Estonia. Its landscape is marked by wide beaches as well as dense, sprawling forests. Latvia's capital is Riga, home to notable wooden and art nouveau architecture, a vast Central Market and a medieval Old Town with St. Peter's Church. Riga's museums include the Latvian Ethnographic Open-Air Museum, showcasing local crafts, food and music.
Capital of Latvia Riga is famed for its beautiful Art Nouveau architecture. In fact, as many as a third of all the buildings in the city's center sport this architectural style, meaning Latvia's capital reportedly boasts one of the world's highest concentration's of Art Nouveau structures
The most famous is Rundale Palace and Museumbuilt in a style similar to the Palace of Versailles, a Rococo and Baroque masterpiece. Other fortresses and palatial highlights to see include the Turaida Stone Castle, the Castle of Cēsis, and the Daugavpils Fortress which now host to the Daugavpils Mark Rothko Art Centre
The most popular traditions of Līgo are singing Līgo songs, picking different sorts of herbs, making wreaths, bonfires, eating cheese and drinking beer. Ancient Latvians believed that the herbs, which were gathered on Midsummer Day, would conquer evil spirits and bring benediction and health to people.