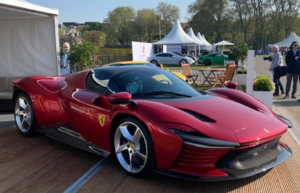 Promising to be London's most exclusive automotive party, with plenty to see and do, the three-day celebration  featuring mouth-watering new machinery, a second-to-none selection of classic cars for sale in the Concours de Vente, and some of the world's most desirable luxury brands alongside the capital's finest dining courtesy of hospitality group JKS Restaurants. With tickets selling fast for the must-attend event, the inaugural Salon Privé London is set to be something truly special.
Twelve special automotive debuts Appearing exclusively at Royal Hospital Chelsea, the roster of vehicles includes:
Alfa Romeo 12C Prototipo
Making its public debut 81 years after it was first conceived, the long-lost Alfa Romeo 12C prototype will be unveiled alongside a brand-new book telling the fascinating story of the pre-war racer.
Over the course of 272 pages, The Missing Link? pieces together the full story of this historically significant Alfa Romeo and how it connects three of the world's greatest automotive marques – Alfa Romeo, Ferrari and Porsche. Decades after the project was abandoned, the major components of the Alfa Romeo on which they'd collaborated were reunited and the car restored. The new book is the first from Progetto 33 – the publishing house founded by Stefano Martinoli, owner of the 12C Prototipo.
Aston Martin (Aston Martin Mayfair)
Aston Martin Mayfair will be giving the Aston Martin DBX707, the world's most powerful luxury SUV, its UK event debut. An SUV like no other, it elevates Aston Martin to the pinnacle of the segment with a unique combination of blistering performance, supreme dynamics, unmistakable style and absolute luxury.
Bugatti (H.R. Owen Bugatti)
H.R. Owen Bugatti will present the public debut of Bugatti Sur Mesure's first customer project at Salon Privé London. The unique Chiron Pur Sport is inspired by the heroics of racing driver Louis Chiron, and features brand-new exterior paint colours as well as a number of ultra-bespoke interior and exterior styling additions.
Translated as 'tailored', Bugatti's Sur Mesure builds upon the marque's distinguished history of coachbuilding, handcrafted interiors, paint finishes, embroidery and bodywork. It harnesses the collective expertise of its skilled designers and engineers to form a brand-new programme to meet growing customer demand for ultra-customised designs, materials and finishes.
Charge Cars
The highly anticipated production-intent version of the Electric Mustang by Charge Cars will be making its global debut at Salon Privé London, with customers able to order the EV at the event.
A hand-built, zero-emissions design icon, the brand-new Electric Mustang uses cutting-edge technology to redefine the revered 1967 Fastback model. With a new steel bodyshell, complete with the blessing of Ford, and composite body panels to minimise weight, the car's quad-motor configuration provides 536bhp and a 0-62mph time of just 3.9 seconds.
Caton
The all-new and ultra-exclusive Healey by Caton will make its global public debut at Salon Privé London, as the reincarnation of the iconic Austin-Healey 100 sports car arrives at Royal Hospital Chelsea.
Healey by Caton is a unique combination of 21st-century design and engineering with traditional techniques, all of which delivers a driver's car for the modern age. Promising an immersive, intoxicating and emotional automotive experience, the first creation from the all-new luxury British brand Caton brings the Austin-Healey 100 up to date while still protecting the ethos of the 1950s original.
Ferrari (H.R. Owen Ferrari)
The revolutionary new Ferrari 296 GTB will make its UK static debut at Salon Privé London with H.R. Owen Ferrari. The first of Maranello's road cars with plug-in (PHEV) hybrid architecture, the 296 GTB boasts an internal combustion engine integrated with a single electric motor. With an exceptionally wide V6 design helping contribute to the car's compact dimensions, it's efficient and responsive – and delivers 818bhp, resulting in a 0-62mph time of only 2.9 seconds.
In addition to the 296 GTB, a Tailor Made Roma will be on display, showcasing Ferrari's exclusive programme for customers who want to create an unmistakable, one-of-a-kind vehicle.
Genesis
Genesis will be unveiling its first dedicated electric platform-based vehicle at Royal Hospital Chelsea, when the GV60 makes its European debut. Building on Genesis' philosophy of setting a new standard in customer service, paired with luxury design, the GV60 delivers the technology of a high-performance electric car in the form of a sleek and athletic coupé crossover utility vehicle.
Following its launch in 2015, Genesis has established itself as a unique alternative within the premium segment. A new model in the burgeoning brand's line-up, the GV60 draws on its 'Athletic Elegance' design language to truly stand apart from its rivals.
Land Rover Special Vehicle Operations
The new Range Rover SV, the flagship of Land Rover's pinnacle luxury vehicle, makes its UK event debut at Salon Privé London, mixing modernity and aesthetic grace to create an exquisite interpretation of the iconic SUV.
With a breath-taking choice of personalisation options across both standard and long-wheelbase models, including a five-seat LWB configuration for the first time, the new Range Rover SV provides customers with a new level of craftsmanship as well as greater functionality. The first vehicle to wear the distinctive ceramic SV roundel, it represents the apex of design and engineering expertise from Land Rover's in-house Special Vehicle Operations team.
Morgan Motor Company
The all-new Morgan Super 3 will make its UK show debut at Salon Privé London, as the Morgan Motor Company showcases its entire range at Royal Hospital Chelsea. Recently revealed to the press, the Super 3 continues the 113-year legacy of three-wheeled Morgan vehicles yet introduces a new product family with a design language inspired by the Jet Age.
The Super 3 has been designed from the ground up to offer new levels of character, thrill and adventure. Built in Malvern, Worcestershire, like every Morgan since 1909, the Super 3 draws on the skilled men and women that handcraft vehicles in the renowned red brick buildings on Pickersleigh Road.
Prodrive
The spectacular new Prodrive Hunter will make its UK public debut at Royal Hospital Chelsea. The world's first all-terrain hypercar has been developed from the Bahrain Raid Xtreme competition car that was driven by nine-times World Rally Champion Sébastien Loeb on the world's toughest motorsport event – the Dakar, on which he finished second overall this year
Developed by British company, Prodrive – which boasts more than 40 years of off-road competition success – the production version of the Hunter is even more extreme than the car driven by Loeb. The 3.5-litre twin-turbo V6 engine has been refined and retuned at Prodrive's Banbury HQ, and its power output has been boosted by 50 percent to more than 600bhp. In order to improve driveability, the competition car's manual sequential gearbox has been replaced by a six-speed paddle shift that can change gear in milliseconds.
Rolls-Royce Motor Cars
Rolls-Royce Black Badge Ghost the purest Black Badge yet.
Black Badge Ghost debuts dark side of Post Opulent design
75-litre V12 engine now delivers increased power (600PS) and torque (900NM)
Drivetrain and chassis re-engineered for more urgent performance
Curated collection debuts striking Turchese Leather and Technical Carbon veneer
Bespoke alloy wheel introduced in Black Badge house style with carbon fibre barrel
Infinity lemniscate symbol continues to codify noir expression of Rolls-Royce
"After considerable internal debate, Rolls-Royce announced that it would create an officially sanctioned response to a new kind of client: a permanent Bespoke treatment to its motor cars named Black Badge. These products, which were launched in 2016, would be darker in aesthetic, more urgent in personality and dramatic in material treatment. "In the five years since Black Badge became publicly available, this bold family of motor cars has come to symbolise the pinnacle of a new type of super-luxury product, setting in motion a shift across the wider luxury industry. Subsequently, nearly all luxury makers create products that seek to capture the Black Badge spirit. "Today, we announce a product that represents a new kind of Black Badge motor car, one that seizes on the minimalist, Post Opulent design treatment that has recast the legend of Ghost but amplifies and subverts it with the application of black. Our most advanced motor car yet has been reengineered to characterise the alter ego of Rolls-Royce: assertive, dynamic and potent.
For more info and tickets: