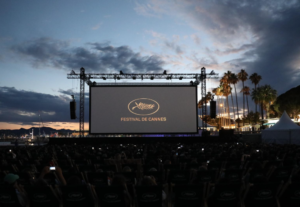 In addition to all the screenings, conferences and events of the Official Selection happening at the Palais du Festival, the Festival reinvents itself each day at 9.30 pm and transforms the Macé beach of the Croisette (across the Majestic) into an open-air theater at nightfall.
This event is open to all festival-goers and casual cinephiles, free of charge.
The half-century anniversary of The Godfather, the 40th anniversary of E.T. the Extra-Terrestrial, Jim Carrey in The Truman Show, two world-premieres, Rock'n'Roll humor, showmanship, action, an hommage to the French singer Christophe and the iconic French actors Belmondo and Gérard Philipe, a salute to film director Peter Bogdanovich, a giant karaoke and a restored Brotherhood of the Wolf!
For more information visit https://www.festival-cannes.com/en/
Author: Eleanor Belson