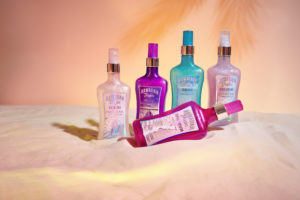 A Tropical Paradise Awaits…In need of a quick, sweet-scented spritz? Hawaiian Tropic has got you covered with their collection of tropical fragrance body mists. Available in a variety of deliciously exotic scents, Hawaiian Tropic body mist sprays are truly island-inspired and can transport you to the pool, beach or perhaps, a Tiki Bar.
Hawaiian Tropic DNA
For 50 years, Hawaiian Tropic has captured the essence of the exotic and embodies all that summer dreams are made of, within its bottles. From the warm sand and coconut of sun-drenched days, to the exhilarating passion flower and musk of balmy nights, the mists encourage you to indulge in sensory escapism. A collection of 12 delectable scents that smell good enough to eat, including their latest additions – the Pearlescent Sunset Collection; a new modern, eye-catching and vegan set of three scents, as well as their fun-loving Shimmer Collection, created to celebrate the festival and holiday period. The glitter in these mists is biodegradable too, so you can use it as generously as you like and be guilt-free.
Whether it be a relaxing day by the pool or beach, to unforgettable festivals and moments with friends; the Hawaiian Tropic mists are there to celebrate the 'best bits' with you.
All are currently available at Superdrug.
100ml: £6 | 250ml: £10
More Tropical Goodness…
Hawaiian Tropic Golden Paradise (100ml and 250ml):
Spritz and escape into summer wherever you are. A lightly scented Fragrance Mist, infused with warm sand and creamy coconut.
Hawaiian Tropic Tropical Oasis (100ml and 250ml):
A lightly scented fragrance mist, infused with island coconut and raspberry sorbet. The luxurious yet light formula has top notes of nectarine, island coconut, pink passion fruit and raspberry sorbet, and heart notes of jasmine, papaya and ylang ylang.
Hawaiian Tropic Summer Dreams (100ml and 250ml):
A lightly scented Fragrance Mist, infused with passion flower, mango and musks. Your perfect summer escape begins with the sun's luminous rays and a cool ocean breeze, setting the scene for fun and endless dreams to come.
Hawaiian Tropic Sunkissed Dreams (100ml and 250ml):
A lightly scented Fragrance Mist, infused with lotus flower and sheer musks. From a sunkissed touch to that undeniable summer temptation, dreams are filled with the joy of love, fun and summer sun.
Hawaiian Tropic Exotic Breeze (100ml and 250ml):
Surround yourself in luxury as you indulge in an exotic island experience, and awaken your senses with mouth-watering fruits and luscious florals. This exotic Fragrance Mist is infused with juicy mango and golden amber. Spray on for an exotic touch of scent and escape into summer.
Hawaiian Tropic Pink Retreat (250ml):
Retreat into a tropical romance, feel paradise on your skin and fall in love again with vivid pink. sunsets, sweet fruits and luscious florals.