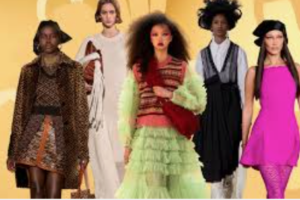 The overarching mood of autumn/winter 2022's fashion trends can be summed up in one word: Nostalgia. Now, nostalgia comes in many different forms depending on your age, experiences and interests. Whatever you might associate with happier, simpler times has likely been translated to the runways for the upcoming season because the creative collectives in New York, London, Milanand Paris have all been feeling that desire for a better life. Designers powered through the past two pandemic years with optimism, channelling their energies in quite literal pick-me-up trends such as dopamine dressing—a hashtag that continues to garner attention on almost all social platforms—but with the easing up of restrictions and a glimmer of light at the end of the tunnel, more varied style directions are opening up too.
Although the loudest takes on nostalgia are defining the A/W 2022 outlook (more on that in a minute), for the minimalists out there, who perhaps have felt a little underserved in the past couple of seasons, a return to '90s basics will provide a great palate cleanser. If there's going to be one viral item of the season, it'll be Prada's white vest. Yes, that's correct: As we roll into the winter months, there's a surprisingly humble, surprisingly summery item that will be on the majority of fashion people's wish lists. We can already see that plain(ish) white wests are trending in high-fashion circles—Loewe's anagram-emblazoned version is selling like crazy. Other subtle riffs on minimalism are on offer as well: Oversized tailoring, classic suits, bomber jackets, maxi skirts and neutral colours are plentiful for those who want them.
The throngs of young fans hoping to get a peek at Jacob Elordie or Sydney Sweeney walking into a fashion show seemed to be larger than ever. But there's no denying the big, pink attention-seeking elephant in the room: TikTok and youth-driven pop culture are the dominant forces for autumn/winter's look. The perception of TikTok is that it's the place where "extra AF" has found its natural home and that no Y2K stone will be left unturned. To a point, that is true, but I would argue that the platform offers much more across personal styles, subcultures and age groups, and I think that it's actually this diversity and freedom of taste that has led to designers tapping into even skimpier noughties looks and a veritable banquet of party looks for the best night ever and little offshoots such as the #gothaesthetic, too. "Expect the unexpected," says fashion expert and Flannels head of womenswear elevation Emma Ilori. "Over-the-top, more-is-more, experimental wardrobes—pushing the boundaries of everyday dressing. We're ready to be out and be seen. Think fresh-off-the-runway social media moments and head-turning full looks." And things couldn't be more committed to that idea than they are over at Valentino, where—during what could arguably be the show of the season—Creative Director Pierpaolo Piccioli crafted a custom hot-pink hue in collaboration with Pantone. Prepare to see Valentino Pink PP (or at least as close as any other brand can get) everywhere.
"The season's overarching mood is one of fun and extravagance, and the A/W trends are set to be all about OTT fashion. Bags are getting bigger, colours are getting brighter, and everything seems to have been covered in shiny sequins,"