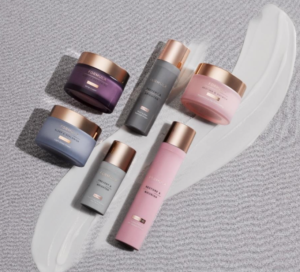 Marks & Spencer's skincare-solution range Formula is back, and better than ever. A collection of hard-working products across three ranges, it features cutting edge formulations for a broad spectrum of skin types. Smoothing serums, plumping creams and intensive treatment masks are powered by innovative technologies to rejuvenate complexion and target specific skin concerns. The Formula collection is made up of three subranges: Sleep & Replenish, Restore & Nourish and Prevent & Brighten. Each range includes a hero line up of quality skincare products alongside a selection of deluxe minis in The Discovery Set, for the ultimate tailored skincare regime.
Hero lines remain such as our customer-favourite Ultimate Sleep Cream, as well as added elevated newness, offering customers an all-in-one skincare solution. Sleep & Replenish range is formulated with ingredients Matrixyl 3000 and Olea Vitae, known to help skin's natural circadian rhythm and to tackle the visible signs of desynchronisation, leaving your skin looking refreshed and rested.
Restore & Nourish range has been carefully curated to care for delicate, mature skin, providing a renewed resilience, instant hydration, and comfort. With Ceramides and Collagen boosting actives, your skin is left feeling more plump, smooth and firm.
Please visit: https://www.marksandspencer.com/l/beauty/formula