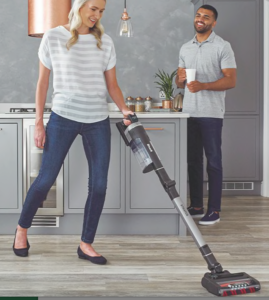 Introducing the ultimate cordless vacuum cleaner for homes with pets, from the Shark Stratos collection. Experience the power and freedom of Shark's cordless vacuum cleaners. From flexible cordless stick vacuum cleaners to versatile cordless uprights, enjoy cord-free cleaning with a range of run-times to choose from. There's something for everyone in every home. Shark brand is offering huge variety when it comes to stick models in particular. The Shark Stratos is the newest flagship range. The Shark Stratos IZ420UKT cordless vacuum successfully reaches stratospheric heights in terms of technology, suction and design.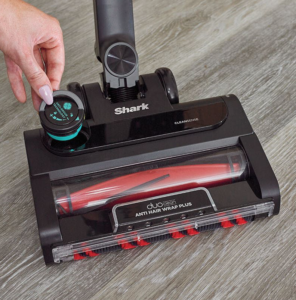 This vacuum aims to solve many of the age-old cleaning dilemmas that make cleaning so often tiresome.
First up, you've got unrivalled hair pickup with the Anti Hair Wrap Plus technology, and suction power that will make a noticeable difference on carpets as well as hard floors.
Then there's the CleanSense IQ feature, which adjusts that wonderful suction power in the areas where you need it the most, without you needing to think about it.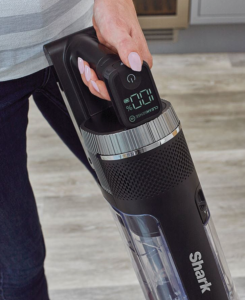 And if you hate nasty musty vacuum bin smells, then just wait until you hear about the Anti Odour Technology that Shark have to offer to make the Stratos one of the best vacuums ever.
Not just a minor tweak on an old formula, the Shark Stratos Anti Hair Wrap Plus Pet Pro Cordless Vacuum IZ420UKT brings a brand-new floor head and automatic power adjustment into the mix. With excellent dust collection, a fantastic design and two batteries, this is a brilliant cordless vacuum cleaner for whole home cleaning
Introducing our best cordless stick vacuum for pet hair, from the Shark Stratos collection details:
Shark's best ever hair pick-up with Anti Hair Wrap Plus
Removes hair from the brush-roll so you don't have to
Clean Sense IQ delivers up to 50% more dirt pick-up*
Anti-Odour Technology protects against bad odours inside the vacuum
Up to 2 hours of run-time** with 2 removable battery packs
Perfect for carpets & hard floors
Includes Pet Tool – perfect for pet owners
*Versus Shark IZ420UKT in ECO mode.
**When using two batteries consecutively in ECO power mode, with non-motorised tool.
For more information and purchase please visit:https://sharkclean.co.uk/shark-catalog/shark-cordless-vacuum-cleaners/