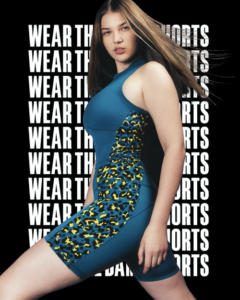 London, 13 July 2023—Sweaty Betty, the United Kingdom's #1 women's premium activewear brand has commissioned poet Sophia Thakur once again, this time to create a spoken word piece around body positivity and female empowerment for the launch of their summer campaign #wearthedamnshorts, to encourage women everywhere to embrace wearing shorts this summer. The multichannel campaign will launch in July and feature across Sweaty Betty social and digital channels with Thakur's poem and using key female body positive influencers including Emily Clarkson and Mollie Campsie to spread the word that shorts are for everyone.
The campaign will take to Sweaty Betty stores, with an exciting IRL celebration planned in London on 7 July and Liverpool on 8 July, featuring real women in the windows of the stores and dancers from fitness studio Frame.
'Wear the Damn Shorts' became a popular hashtag in March 2021, when a post on the subject by an instagram PT* went viral (see here), striking a chord with so many due to its motivating and liberating message. Sweaty Betty would like to build on this movement and elevate this body confidence message to set more women free to wear the clothing they want to wear, rather than things they feel they should wear.
Sweaty Betty will showcase a range of shorts for the promotion in July, as well as elements of 'surprise and delight' in-store to encourage everyone to wear the damn shorts this summer. The overall aim of the campaign is not just to sell product but to inspire women to feel confident and comfortable dressing for the weather and their surroundings rather than being held back by insecurities.
About Sweaty Betty: Born to challenge convention, Sweaty Betty has been empowering women through fitness and beyond for almost 25 years. Famous for its sculpting leggings, Sweaty Betty continues to offer a differentiated point of view on high quality, performance activewear through its fearlessly feminine with a contemporary technical edge positioning.
The brand services its loyal, fast-growing community worldwide through sweatybetty.com complemented by over 80 retail locations across the United Kingdom, Europe and Asia and the world's best luxury retailers including Selfridges, Harrods, Neiman Marcus, and Nordstrom.
*Georgina Cox is a PT offering personal training and online coaching, building strong, confident women
For more information and purchase please visit :
https://www.google.com/search?client=safari&rls=en&q=sweaty+beaty++shorts&ie=UTF-8&oe=UTF-8