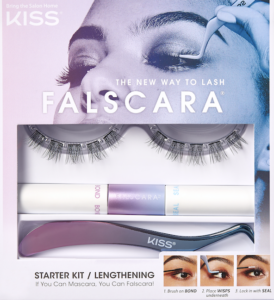 KISS Falscara – THE NEW WAY TO LASH is now even better! With new additions to the range, our TikTok Viral DIY lash extensions can now last up to 10 days with our NEW Overnighter. For the ultimate personalized lashes, we have also expanded our Wisp range to include three new multipacks containing 3 different lengths to fit every eye shape and for a customized look. The Wisps are designed with a unique microband and featherlight fibers that you place under your natural lashes, not above them. The result is a seamless, natural lash look.
Easy to apply
Natural lash extensions look
Comfortable all-day wear
No clumps, no smudges, no strips, no damage, no mistakes
Up to 10 days of DIY lash extensions with the new Overnighter
FEATURES:
▪  WISPS: Designed with a microband and featherlight fibers. Comes in 3
styles: Lengthening, for a soft natural look with subtle length; Natural Wispy, for a fluttery and voluminous look; Extra Drama, for mega volume and density.
▪  BOND & SEAL: BOND has a non-damaging formula that primes natural
lashes for WISPS. Infused with Biotin to promote growth.
SEAL is formulated with nourishing Vitamin E, SEAL removes any tacky residue and locks the WISPS in place for all-day wear.
▪  APPLICATOR: Patent-pending APPLICATOR has a unique angled tip and a non-stick finish for optimal WISP placement.
▪  OVERNIGHTER: For extended wear of Falscara WISPS, with stronger hold of up to 10 days. Apply the Falscara Overnighter Seal under your Falscara lashes as a sealant.
MULTIPACK WISPS: The specially designed Falscara Wisps available in three styles, now contain 3 different lengths (Short, Medium and Long) to fit various eye shapes for a fully customizable look.
HOW TO APPLY:
Brush a light coat of BOND onto clean natural lashes to prime and prep. A little goes a long way!
Use the FALSCARA APPLICATOR to pluck a WISP from the tray. Pick up a WISP from the middle-outer end for optimal control and application. One by one, gently place the WISPS underneath the base of your natural lashes,
slightly away from the waterline.
Dab on a thin coat of SEAL under WISPS to eliminate any sticky residue and hold WISPS in place!
Pro Tip 1: Complete Falscara application on one eye before moving to the next.
Pro Tip 2: If needed, use the APPLICATOR or your fingers to squeeze the WISPS against your natural lashes; this helps the WISPS adhere for a more secure hold.
For lashes that last up to 10 days apply OVERNIGHTER SEAL on top of your Falscara Wisps. Simply brush a thin line of OVERNIGHTER under the wisps, applying close but slightly away from the wisp bands. Apply 2-3 coats for a stronger hold, you can reapply OVERNIGHTER daily as needed.
REMOVAL:
Use KISS Falscara Eyelash REMOVER. Infused with soothing rosewater, REMOVER provides gentle, easy removal of FALSCARA WISPS and BOND & SEAL while nourishing the eye area. Saturate a cotton pad and hold for 10 seconds to let REMOVER work its magic!
PRO TIPS:
▪ Watch how-to video on KISSusa.com
▪ Apply wisps starting from the outer corner of lash line, working inwards (or vice versa). Be sure to place WISPS
right next to each other for a seamless look.
▪ To prolong the life of your APPLICATOR and WISPS, wipe off any BOND residue with rubbing alcohol or makeup
remover after use. With gentle care, WISPS are reusable.
PRICES:
KISS Falscara Starter Kit, £24.99
KISS Falscara Multipack Wisps, £9.99
KISS Falscara Remover, £9.99
KISS Falscara Overnighter, £13.99
For more information and purchase:https://www.kissusa.com/lashes/all-lash-products