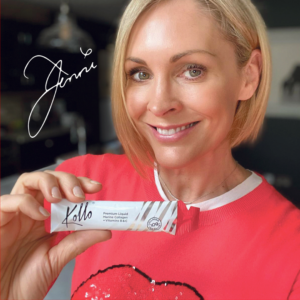 LONDON  2023 – Kollo has taken the concept of liquid collagen supplements to new heights, showing how true health and beauty originate in science. Customers are experiencing breakthroughs in their skin, hair, nails, joints, energy levels, mood and more. The core nutrient complex is based around 10,000mg marine collagen peptides which are highly sustainable and clinically proven to be of premium quality. Alongside this large daily dosage of the best hydrolysed collagen on the market, Kollo adds potent nutrients that further enhance the synthesis of endogenous collagen in the human body, leading to improvements in collagen levels throughout your anatomy. Kollo has won numerous awards and earned the coveted Informed Sport certification as evidence of its safety and quality.It embodies the brand's commitment to results for customers, delivered sustainably and offering the best possible user experience. Kollo was built by people with a zest for life who want to impart that to others so that we can all live our best through extended youth, better health and a simpler approach to beauty.
"For me, it was imperative to find not only an ingredient that had clinical studies to prove it actually worked, but also to pack our daily sachet with as much of it as possible…and that is exactly what we have done" says Jenni Falconer, radio presenter, television personality and co-founder of Kollo. "Since our launch in 2020, we have sold over 3 million doses, received more than 2,000 5-star reviews, achieved the elusive 'informed sport approved' certifications, been featured on ITV This Morning and won a series of awards!"
Collagen is a fundamental structural protein in skin, bone, cartilage, tendons and other parts of the body, but it decreases as we age. This leads to the early signs of ageing, and this is why the collagen supplement market is growing at such a rapid pace. More and more people are seeking the best collagen supplements and there are many to sift through, but a little exploration will quickly show you why Kollo is at the top of the pile. Customers of Kollo will enjoy a simple, positive and sustainable experience in a natural, results-oriented product that contains a unique blend of potent ingredients with maximum bioavailability. They aim for maximum transparency about their product, so please visit https://kollohealth.com/ to learn everything there is to know and take advantage of a discount on your first box.
The unique and powerful Kollo blend offers the following advantages:
Premium-grade, clinically tested Naticol marine collagen
A daily dose of 10,000mg collagen peptides
100% of your RDA of vitamins B12 and C
70% of your RDA of vitamins B!, B5 and B6
L-lysine to promote collagen growth, enzymes and antibodies
A liquid suspension for ease of use and maximum bioavailability
A delicious tropical taste from natural, sugar-free flavourings
Fully-recyclable packaging
Informed Sport certification