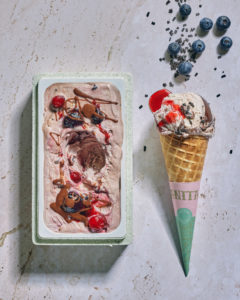 The new opening follows the family-owned Israeli artisan ice-cream store's
international success in NYC, LA, Brisbane and Tel Aviv. Anita Gelato, the world-famous Israeli ice-cream boutique, has opened its doors in Covent Garden, London. Celebrated for its 150 flavours of gelato, frozen yogurt and sorbet – including sugar-free and vegan options – the family-owned gelato house has enjoyed global success with 17 branches around the world, from New York City and Sydney to Barcelona and Tel Aviv.
Its debut London store, in the heart of the capital's Theatreland at 4 Upper St Martin's Lane, Seven Dials, is open seven days a week from 8am until 11 pm – making it the ideal dessert
destination for pre and post-theatre treats, alcohol-free dates and shopping-trip pit stops.
Every scoop of Anita Gelato's frozen creations – all produced in-store – contains the freshest,
highest-quality ingredients, in rich flavours with texture and crunch, from fresh cream to
seasonal fruits and premium chocolate.
Anita Gelato offers a unique range of flavours, such as Milk Chocolate Salted Pretzel, White
Chocolate and Pistachio, or Salted Almonds and Caramel – served in wafer cones or
alongside a waffle, and topped with fresh fruit, syrups, chocolate, or house-made jams.
There are also dairy-free vegan options including tangy sorbets or soy-based ice-creams;
low-fat froyos (frozen yogurts) with a range of toppings; and delicious sugar-free versions of
hazelnut, coffee and chocolate gelatos. Anita Gelato serves a selection of coffees (including
iced coffees) and hot chocolate too.
Anita Gelato started life in a small Mediterranean kitchen in 1998, where "Mama" Anita
Avital and her youngest son, Nir, would create handmade gelato for their friends and
neighbours. Nir began selling their ice-cream from a cart at a local market and, by 2002, he
had teamed up with his older brother, Adi, to open their first family-run ice-cream parlour in
Tel Aviv, Israel. Anita Gelato has since become an international success story, with locations
in the US, Australia, Spain, Cyprus and now London's West End.
Address: 4 Upper St Martin's Lane, London WC2H 9NY
Opening hours: Monday to Sunday, 8am-12am
For more information visit :https://www.anita-gelato.com/#discover