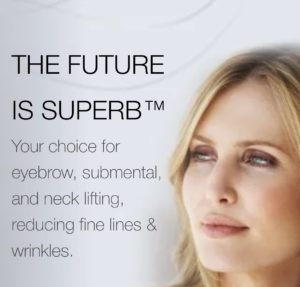 Your choice for eyebrow, submental, and neck lifting, reducing fine lines & wrinkles. The SofwaveTM unique technology enables the controlled delivery of ultrasound energy, in terms of amount and location, while protecting the skin surface with an integrated cooling mechanism, without the interruption to your daily routine. Sofwave™ Ultrasound Parallel Beam SUPERB™ technology, providing a reduction in fine lines and wrinkles and lifting the eyebrows, neck, and submental area in a single treatment session, no matter the season, skin type, or skin colour.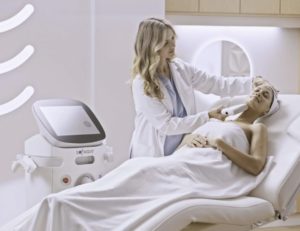 Dr Sophie Shotter, aesthetic doctor and founder and medical director of Illuminate Skin Clinic says: "SofwaveTM was a clear winner for me when it came to choosing an ultrasound technology device for my clinics. The incredible results, FDA clearance and the fact that it is far more comfortable than older technologies on the market, meant the decision was not a hard one for me. I was also concerned about fat loss for my patients and that the leading competitor can cause this issue and for my patients, if they decided to graduate to a facelift, destroying fat in the face is not too conducive to having a good facelift. Being one of the first clinics to introduce it to patients means I get the pleasure of telling people about it for the first time and seeing the excitement in their faces! The results can be seen straight away (I tell my team to always do one side first so you can show them), with best results after 6 months. Having a comfortable technology that can lift the delicate eye area as well as the brow, is an industry first."
SofwaveTM is the latest technology to revitalise the skin through innovative stimulation of the production of new collagen. The SofwaveTM Synchronous Ultrasound Parallel Beam Technology is FDA cleared for improving facial lines and wrinkles, lifting the eyebrow, and lifting lax submental (beneath the chin) and neck tissue.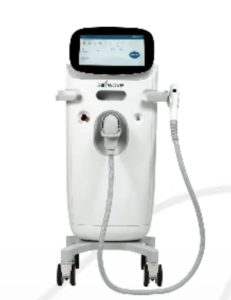 How does Sofwave™ work? The depth for treating wrinkles is 1.5mm in the mid-dermis. The unique, Synchronous Ultrasound Parallel Beam SUPERB™ technology generates heat at this exact depth in the mid-dermis. Additionally, there is an integrated cooling mechanism Sofcool™ that protects the uppermost skin layer from over-heating. The impacted treatment zones stimulate a healing response, called neo-collagenases, which increases and regenerates the collagen in the skin, leading to the reduction in fine lines and wrinkles, and lifting the eyebrow, submental and neck tissue. Clinically proven technology: A multi-center clinical study evaluated the clinical effects of the Sofwave™ technology on facial wrinkles, most patients were marked as improved or significantly improved 12 weeks after a single treatment. High patient satisfaction: In a multi-center clinical study, 72% of the patients were satisfied with their results and rated them as improved to very much improved. Does it treat all skin types? Darker skin types are more susceptible to burns with the different light[1]based therapies. With Ultrasound, and Sofwave™, the treatment is safe and effective regardless of the patient's skin tone. How long is the treatment? This quick full face treatment can take as little as 30-45 minutes, it's easy to perform, and patients love the fact that this procedure can fit into an active lifestyle at any time of the day. How many treatments are needed? Typically, the treatment protocol calls for 1-2 treatments, depending on the patient's skin condition and the physician's recommendation. When can I expect to see results? Immediate results can be seen as soon as 1 week following the treatment. The collagen regeneration process can sometimes take up to 12 weeks, so patients are expected to see ongoing improvements in the three-month period after their treatment. In SofwaveTM clinical trials, results have been shown as soon as after one treatment. Are there any side effect with SofwaveTM? The treatment is designed to minimize downtime and optimise patient convenience: No bruising, ulceration, or skin pigmentation were reported in clinical testing; No penetration of the skin is required; No device-related adverse events reported in the multi-center clinical study; None of the patients experienced persistent pain or tenderness that would delay a return to normal activities.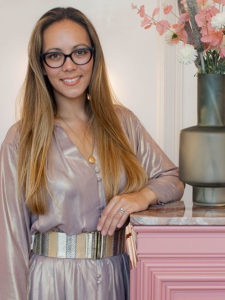 You can experience SofwaveTM treatment at The Clinic at Holland Park – that is the elite Beauty, Surgery and Wellness destination that redefines the Aesthetic experience.
Miss Jennifer Doyle is a Consultant Oculoplastic Surgeon and serves as Head of Aesthetics and Chief Operating Officer at the clinic. She also continues to work part-time within the NHS as a consultant at Milton Keynes University Hospital.
She graduated with Distinction from Oxford University in 2012 having read Medicine at Christ Church College, Oxford. Having being awarded the Proxime Accessit for the Gibbs Prize she was made a scholar.
She went on to complete her Ophthalmology training in the Oxford Deanery before undertaking a fellowship between Buckinghamshire and Chelsea & Westminster in Oculoplastics. She is a fellow of the Royal College of Ophthalmologists and has presented at multiple national and international meetings within Ophthalmology and Aesthetics. She is a full member of the British Oculoplastic Surgery Society and a member of the American Academy of Ophthalmology.
She has a passion for teaching and previously served as a lead trainer at Harley Academy, where she taught other medical professionals how to carry out aesthetic treatments in a safe and responsible manner.
She now combines her knowledge of ophthalmic surgery with keen eye for aesthetics to provide a holistic approach to achieving natural yet effective aesthetic outcomes for her patients.
For more information please visit: http://Sofwave™ Skin Tightening Treatment – the Future is SUPERB™
For Sofwave™ Experience please visit:
https://theclinichollandpark.com/practitioners/jennifer-doyle/