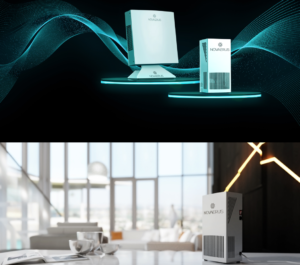 Virus elimination from indoor air is vital to our health and wellbeing. Innovative technology in the fight against airborne viruses, originally designed for clinical environments, is now available for use in any workplace or indoor setting. Developed and manufactured in Ireland, this revolutionary air disinfection system from Novaerus uses patented NanoStrike technology to eradicate ALL airborne pathogens, including SARS-CoV-2 (the virus causing Covid-19) at DNA/RNA level, creating safe indoor spaces. Many harmful viruses including SARS-CoV-2, Influenza, Measles, TB, Norovirus and bacteria such as MRSA, are airborne.
We each breathe around 11,000 litres of air every day and indoor air is up to ten times more polluted than outside. To protect ourselves, children, loved ones as well as our workforces and thereby, our businesses, we need to effectively close the infection control loop of hands, surfaces and spaces by disinfecting the air we share and breathe indoors. Disinfecting the air indoors, safely, effectively and constantly is what Novaerus units do. Efficiently, quietly and economically. So, how does this technology differ from other available products?

Developed by Novaerus in 2012, Nanostrike has been independently tested in over 30 laboratories worldwide, including tests on the live SARS-CoV-2 virus. Proven in countless studies to eradicate 99.99% of ALL airborne viruses and bacteria, resulting in reduced absenteeism, improved indoor air quality and a safer home, work or leisure environment.
No costly UV lightbulbs to replace
No harmful emissions.
No trap filters which lead to colonisation of bacteria, viruses or fungal spores.
Powerful enough to destroy pathogens yet gentle enough for use 24/7 around even the most vulnerable.
These portable, plug and play units require no installation nor ongoing maintenance. They can be wall or stand mounted and used anywhere people need to come together in indoor spaces and cost less to run than a lightbulb.
Novaerus medical grade technology Improve our most vital commodity – The air we breathe. Protect our most precious asset – Good Health After all, peace of mind is priceless!
Contact now:- Tel: 0330-223 5320, E-mail: sales@seldex.co.uk 
or visit:https://www.seldex.co.uk/