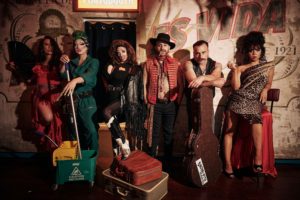 Cabaret of Sin immerses guests into a night without limits and redefines Cabaret as we know it. Barrio is set to launch the hottest new ticket in town, promising guests an immersive and reimagined cabaret show of scandal, seduction, and sin where nothing is off limits. Barrio presents, Cabaret of Sin. Set to push the boundaries of cabaret and give a much-needed injection of shock and awe to Friday nights. The performances, choreographed to perfection, blur the lines between reality and fantasy, pushing boundaries and leaving audiences mesmerized by never seen before acts.
The night unfolds in the heart of an enchanting, centuries-old Mexican hotel – Hotel Los Pecadores. This clandestine event promises a captivating and unforgettable experience, filled with jaw-dropping performances, delectable cuisine, and enticing cocktails. Nestled within the hotel's hidden corners and dimly lit corridors, this mysterious spectacle awaits those fortunate enough to secure an invitation.
From the heart pounding and foot stomping soundtrack to the risky and redefined performances, the narrative of a modern love story immerses guests in a debauched night of pleasure.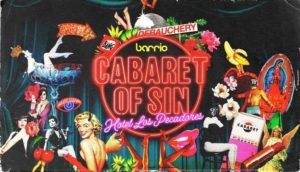 The show itself remains wrapped in secrecy until the moment it begins. Cabaret of Sin ensures that each guest feels like an integral part of this secret soirée that transports guests to a realm where dreams and reality intertwine. Leading performers mingle with the crowd, inviting a sense of playful interaction and hushed conversations about the marvels they have just witnessed. It captures the essence of cabaret, art, and passion, offering an evening of unforgettable entertainment and electric atmosphere.
Lee Ramskill, Nightcap plc's Group Head of Events, and two of London's leading cabaret artists; Alexander Luttley (aka Pi The Mime) and Joe Morrow (Joe Morose) are the masterminds behind the twisted spectacular that is Cabaret of Sin.
Lee said; "Cabaret of Sin takes the original concept of cabaret and theatre entertainment and completely turns it on its head. It's more than just a show, it's a journey of feeling. From comedic acts and West End Vocalists to reversed burlesque and the raciest scenes I have ever produced. It's hot, it's funny and it's wildly innovative with extra shock value, when you're least expecting it.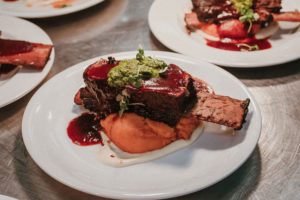 In a city like London where you have every type of entertainment available, we wanted to develop a night that takes our audience into new and exciting territories without losing sight of our main aim: a cracking night out, a smattering of smut and plenty of laughs and gasps – and we know we've achieved that here.
Storytelling is an important part of my craft. We didn't just want a parade of disjointed acts that shock you for the sake of it, we wanted to take the audience on the journey with us, to care about the characters and be part of – the scandal."
Perri Palmer, Brand Manager for Barrio said: "Cabaret of Sin is a first for Barrio with a next level immersive concept and a masterclass of bringing together sex, comedy, acrobatics, and incredible vocal talent in a 360o performance which will leave guests absolutely reeling into the night. The only problem is that with Fridays this good – how can the rest of the weekend compare!"
Tickets range from £10 which includes a table for the show and a welcome drink to £79 which is their gold package including a table for the show, 3 course menu and champagne.The best talent in the business were handpicked to produce Cabaret of Sin; Alexander Luttley (aka Pi The Mime) and Joe Morrow (Joe Morose), former Café de Paris and Bunga Bunga compere. Both have been staples of the London cabaret scene for over a decade, and both picking up several awards on the way.
The talent they have assembled, as part of the cast of Cabaret Of Sins, features some of the finest performers the UK has to offer. These include Demi Noir (creator of The Black Burlesque Revue, world burlesque top 50 since 2019 ranked at #15), Lolo Brow (creator of Award Winning LADS show, Head of Nightlife at Vault Festival), Felicity Furore (international burlesque star and vintage model), circus performer Aaron Marshal (The Boylesque Show), Scott Wilson-Besgrove (Host of Marvel's Guardians of the Galaxy Secret Cinema, creator of the DangerClub podcast) and Kelly Chow (danced with Kelly Clarkson, Lady Gaga and Tiny Tempah).
Cabaret of Sin will run every Friday from 4th August to the end of the year at Barrio Covent Garden, Gillian Lynne Theatre, Parker St, London WC2B 5PW. Tickets are available to book here: https://barriobars.com/cabaret/